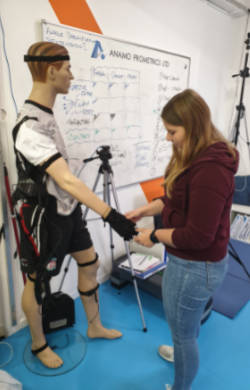 I had been working as CEO of a software company and we moved to IT consulting and managing technology projects. On a side project, I started to work with Scott Cowick from the US and began to work on a project called the 'Real Hero Shop' - looking for a way to reduce the time and costs associated with the production of animation we needed. While researching for an answer, I heard about the Perception Neuron Suit.
From 'tech' cluster to Anamo Prometrics Limited ...
I bought a Perception Neuron suit and started to work with Gerald O'Brien and his team at Gobstar (Cork, Ireland) who introduced me to the wider benfits of 3D mocap. Shortly after this, I met with Danny Router, Paul Clarke & Kevin Conlan of Redback Bioteck who introduced me to Organic Motion ... a marker-less 3D mocap system and was 'hooked'.
During 2018/19, we have moved on to work with different marker-less and marker based systems - each having their own niche values. More recently with Dr Nils hasler's TheCaptury - a cost effective markerless mocap system
Early in 2019, we formed AnamoLABS™- Cork - a private mocap laboratory where we are continuing to be involved in research and the development of concepts around personal mobility - initiaally to do with the assessement and treatment of Cerebral Palsy.
It is our intention to soft-launch our work and its benefits in March/April of 2020.
.